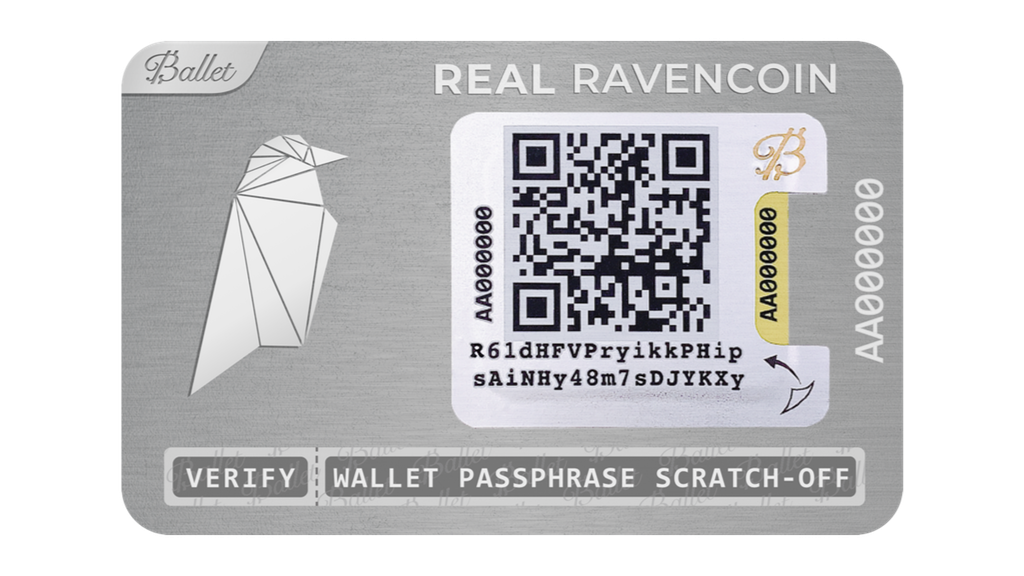 Custom Ravencoin Ballet Wallet — Help make this a reality.
If you haven't seen it already, there is a Kickstarter for a Ravencoin Ballet Wallet.
https://www.kickstarter.com/projects/balletcrypto/real-ravencoin-physical-cryptocurrency-wallet-from-ballet
Here's the story behind the Ravencoin Ballet Wallet. I was introduced to Bobby Lee through a mutual friend during CES in Las Vegas. I was, of course, familiar with Bobby Lee as he was the founder of the largest Chinese exchange (BTCC), which he has since sold.
Bobby's brother Charlie Lee started Litecoin, one of the first altcoins.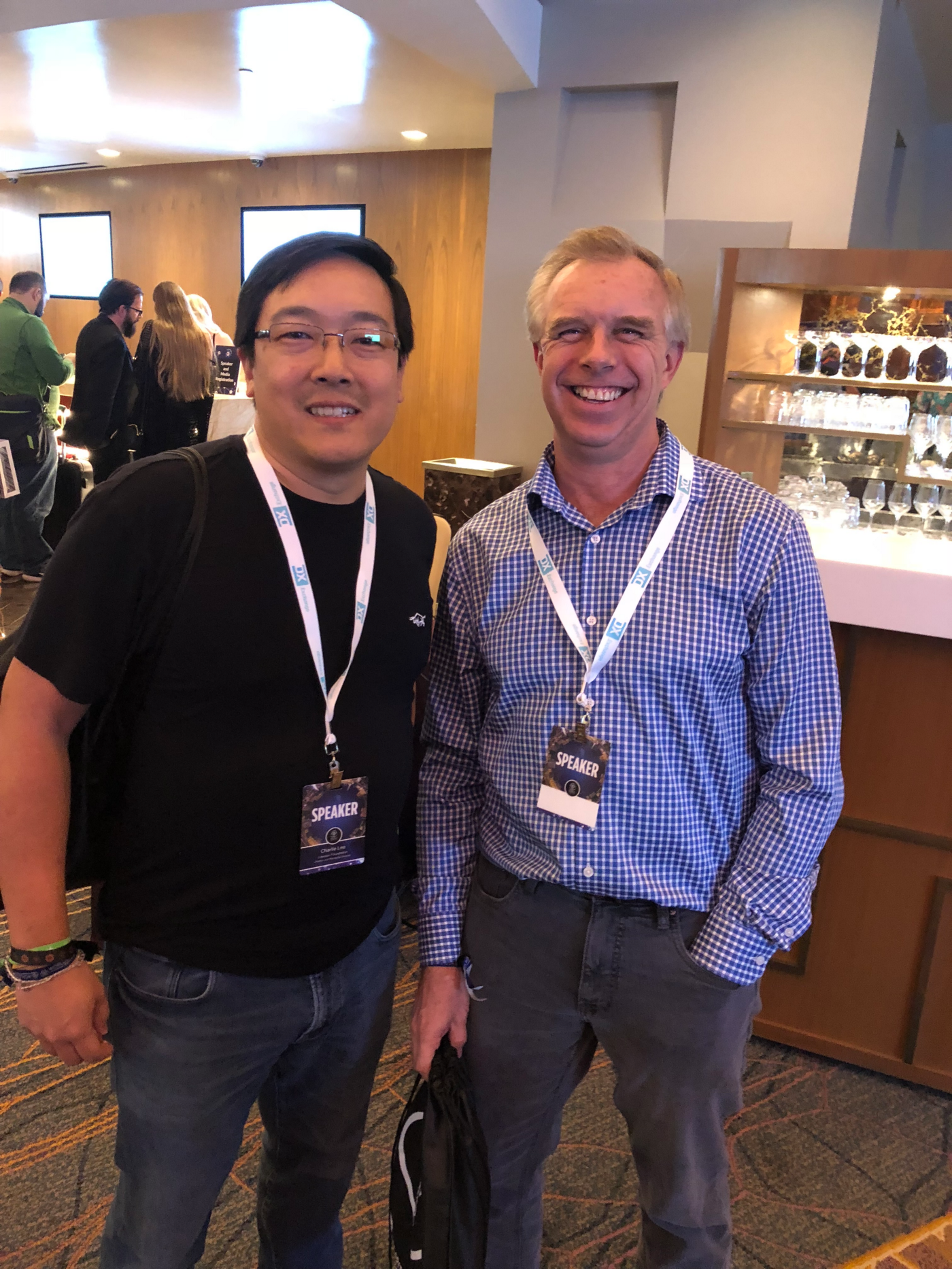 I knew of the Ballet Wallet project, but not the details. The Ballet Wallet is similar to Casascious Coins but unfunded. The private key is included with the hardware. Naturally, the first question is "Who has access to the private key?" The answer is that Bobby used BIP38 to create encrypted private keys, and the password was generated with strong entropy, but you must trust Bobby and their processes. For the manufacture of the Ballet Wallet, only the encrypted private key and public key were together in China, and the strong password is added later and laser-etched in Las Vegas.
There's a bunch of other security features, including a tamper-evident peel-off hologram hiding the encrypted private key, a scratch-off decryption password, online validation of the part of the decryption password, and scratch-and-sniff for the public key to ensure that a bogus public key sticker hasn't been applied over the QR code. If you want to know what Ravencoin smells like, you need one of these.
At lunch, I asked Bobby what it would take to make a custom Ravencoin Ballet wallet, and the answer was an order of 200. I figured the Ravencoin community could reach that level, so we decided to do a Kickstarter. But I found out that to make it fully custom for Ravencoin with an address starting with an 'R', that it would take an order of 500. I agreed to personally put up the funds to get to 500 if we reach the goal of $7000 (about 200 units). I've put up about $9,500 collateral in the form of BTC to cover any shortfall if we don't reach 500 units @ $29 or $14,500.
So, if we don't reach the $7000 Kickstarter goal, the Kickstarter fails and none are made. That would be unfortunate. If we reach $7000, then I'll make up the difference up to an additional $8,700 and all my friends will be getting Ravencoin Ballet Wallet gifts for the next few years because I'll own hundreds of the REAL Ravencoin Ballet wallets.
If we reach the Kickstarter goal, then the software that goes with EVERY Ballet Wallet will be updated to include Ravencoin (RVN). This allows every Ballet Wallet owner — even the BTC ones, to safely store RVN using their Ballet Wallet.
Please help if you're able.
FAQ
Q: Why are you putting up your own money to make this happen?
A: I think there's value for Ravencoin in having RVN represented in the software because other Ballet Wallet owners will also be able to save RVN. The other reason is the physical card would be the best way to gift RVN to others.
Q: What happens if the Kickstarter fails?
A: I will get my BTC back, and the Ravencoin custom Ballet Wallets will not be made. This is NOT IDEAL. I would not have put up my own funds if I didn't think this was valuable for Ravencoin in the long run.
Q: Are you making money on this?
A: I will make nothing from the Kickstarter no matter how many are sold. I am personally guaranteeing everything between what the Kickstarter reaches and 500 units so that we can get a custom Ravencoin address on them. That may be up to $8,700. I may sell the ones I own at a profit later as there's a good chance they'll be collectible.
Q: Do you trust Ballet Wallet and Bobby Lee?
A: Yes. Time and a track record are better arbiters but absent that record, I have confidence in Bobby and their process.
Q: What is it for? Is it a one-time use card? Only for gifting?
A: It is for storing RVN (or 20+ other cryptocurrencies). You deposit RVN to the address on the card. Or you use the free software, scan the card, and get a deposit address for the other crypto-currencies. Send the currency. Store the card in a safe, or safety deposit box. You know that it is safe if the top sticker has not been peeled, or if the password has not been exposed by exposing it by doing the scratch-off.
It is especially suited to gifting because you can deposit RVN, BTC, LTC, or many others, and the free wallet software will show the giftee how much is secured by the encrypted private key. Unlike other solutions, the giftee will know that you don't have the private key because the card it tamper-evident.
For those cases where you're married, or may wish to will your crypto to your children, everything that is needed is contained within the card, so in the case of your death (heaven forbid), the physical REAL Ravencoin Ballet Wallet will allow your heirs to inherit your crypto-fortune. Just secure your Ballet Wallet like you might secure gold, cash, or other valuables.
You can re-use the card, but the tamper-evident features are only good once. Think of it as a retirement account, or buy several cards. Get one for a one-year redemption, another for a 5-year redemption, one for a 20-year redemption, and another to change the lives of your heirs.
Q: What about assets?
A: The Ballet Wallet software will not recognize assets, but importing the decrypted BIP38 key into the Ravencoin core software will recover assets.
Q: What if the Ballet Wallet software disappears?
A: For the Ravencoin custom wallet and RVN, it will just work by importing the decrypted private key into the Ravencoin core software. For other coins like BTC and LTC, there is an open-source tool at https://balletcrypto.org. Ballet Wallet uses the BIP38 standard, so other widely available tools will allow recovery.
Q: How do I get one?
A: https://www.kickstarter.com/projects/balletcrypto/real-ravencoin-physical-cryptocurrency-wallet-from-ballet