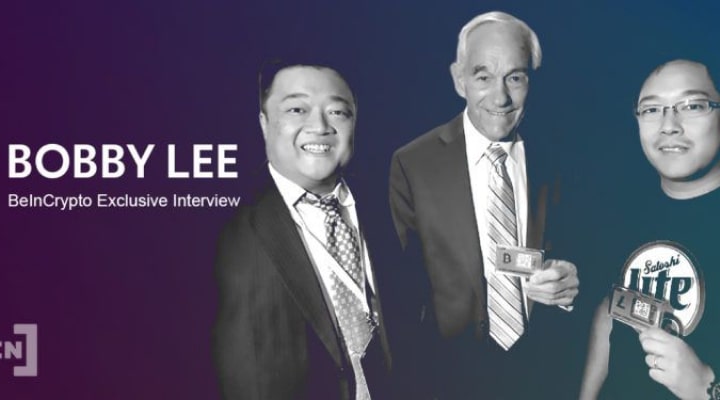 BeInCrypto Turkey recently caught up with Ballet founder Bobby Lee — who previously co-founded and served as the CEO of BTCC (formerly BTCChina), the first bitcoin exchange in China — to discuss Bitcoin adoption after increased tensions between the United States and Iran, the upcoming Bitcoin halving, Peter Schiff and his wallet issues, the dangers of keeping your cryptocurrencies on exchanges, Bitcoin SV, and cryptocurrency's potential in Turkey.
Here's what the prominent cryptocurrency industry professional had to say.
Bitcoin has seen an abrupt increase during the USA-Iran crisis. Both BTC and gold increased in value during the same period. Do you think we can call Bitcoin 'a safe haven asset' right now or do we still need time and progress?
Bobby Lee: I have been investing in gold since long before Bitcoin was created. Gold has been a safe haven asset for many centuries and I believe it will continue to be so. Bitcoin shares several of the same properties as gold, and that enables it to serve as a safe haven asset too. However, a big difference is that gold has been used for thousands of years and Bitcoin is only eleven years old.
Actually, Bitcoin is superior to gold in many ways, but it needs more time to earn the trust of the general public.
Today, only a relatively small number of people understand why Bitcoin is an excellent hedge against geopolitical turmoil, social unrest, and destructive government economic policy. Public opinion polls have shown that the younger generation already prefers Bitcoin as an investment more than gold, stocks, or real estate. However, the older generations own most of the wealth in our society, and it will take them more time to understand.
Beside Bitcoin, Craig Wright's Bitcoin SV has also seen an unexpected rise in its value. Most people think that it was just a pump and dump scheme so the value started to decrease now. What do you think about BSV's recent performance?
Bobby Lee: I was surprised to see Bitcoin SV suddenly rise and surpass Bitcoin Cash value recently, though it has since reversed. One thing I have learned from my time in the cryptocurrency industry is to expect the unexpected.
As a company, we have a neutral stance toward all of the different cryptocurrencies. We are focused on making physical cryptocurrency storage solutions that work with any coin or token. We don't make predictions about which ones will succeed and which will fail. That is for the market to decide.
Do your own research, manage your risk responsibly, and don't invest more than you can afford to lose.
Lots of experts suggest that in 2020 Bitcoin can break a new record. We have an incoming Bitcoin block reward halving upon us and this can affect the price. What is your price prediction in both the short and long term? Do you think the main reason behind BTC's bull rally will be the block reward halving?
Bobby Lee: I think the block reward halving is one of the factors that will drive Bitcoin to a new all-time high price. If the demand for newly-mined bitcoins remains constant but the supply is cut in half, the price will inevitably increase.
Also, the halving event will generate a lot of attention and hype in the mainstream financial media, which will dramatically increase demand.
I have previously said that I believe the price will exceed $100,000 within the next two years, and I stand by that prediction. Eventually, I believe the price will reach $1,000,000 and beyond. It is the greatest investment opportunity of our lifetime.
All the Crypto Twitter has been talking about Peter Schiff and his Bitcoin wallet problem. While Schiff claims that he didn't lose his password or access credentials, most of the community mocks with him. Among these arguments, Vitalik Buterin suggested that we can and should create more easy-to-use wallets for masses. Do you agree with Buterin? Is it hard to use Bitcoin wallets?
Bobby Lee: This is the reason why I started Ballet. My dream is for the whole world to experience the financial liberty and prosperity that Bitcoin offers. However, my time in the industry has taught me that the existing cryptocurrency software and hardware wallets are too complicated for ordinary people without computer expertise to use safely. Without easier wallet solutions, the technical barrier to entry will prevent mass mainstream adoption of Bitcoin. It would be a shame if people miss out on this opportunity because they don't have advanced technical knowledge.
Ballet physical wallets are designed to be easy enough for anyone to use, to store their cryptocurrency, regardless of their computer skills. The user experience is just like holding cash or gold. Bitcoin and cryptocurrency in physical form. No computer setup, no passwords to remember, no seed phrases, no encrypted backups, and no electronic components.
The advantages of a non-electronic wallet are that it is unhackable and more durable than an electronic device. One of the most common ways people lose their coins is by forgetting their password or backup seed phrase. More coins are lost this way than by theft. Ballet wallets are a physical object with no password. The only thing you need to remember is where you have stored it. Humans have thousands of years of experience securely storing valuable physical objects. It is intuitive for everyone, regardless of technical knowledge and ability.
Binance CEO Changpeng Zhao also made a comment about the situation. He suggested that secure centralized exchanges are better for the use of investors. Keeping in mind that Binance got hacked in 2019 and lost 7000 BTC, do you agree with him?
Bobby Lee: I started Ballet because I firmly believe it's better for investors to hold their own private keys rather than keep their coins on centralized custodial exchanges. Not only do exchanges have the risk of being hacked, but there is also the risk of insider theft and the risk that a government will shut down an exchange and freeze users' funds.
Most worrisome is that individual exchange accounts can be hacked through stolen credentials or identity fraud.
Furthermore, exchanges require users to give up their privacy. The reason so many people keep coins on exchanges is that it's more convenient for ordinary people than most of the existing hardware and software wallets.
I designed Ballet physical cryptocurrency wallets to be an alternative that solves these problems. They are more convenient and also safer than custodial exchanges.
Is there anything else that you would like to tell the Turkish cryptocurrency community?
Bobby Lee: Turkey is located at the crossroads of East and West, which has enabled it to be a center of global commerce and cultural exchange for centuries. I believe Turkey can build on this historical legacy to become one of the leaders in the cryptocurrency industry. In order to achieve this, it will require early adopters like you and your audience to educate your family and friends about the benefits of Bitcoin and persuade them to invest.
The simplicity and security of Ballet wallets make it an ideal tool to help them understand how Bitcoin works and have confidence in it. Then you must also persuade the government to implement favorable regulations to allow the industry to flourish. Governments that embrace Bitcoin first will become the great economic powers of the future.
I was invited to speak at a crypto conference in Istanbul in 2018, and I was impressed by the smart people there who all understood the full potential of cryptocurrency. Turkish people clearly get it. I look forward to seeing the mass mainstream adoption of Bitcoin in Turkey in the years to come.