Ballet Weekly Newsletter 002
After receiving positive feedback from our community and early bitcoiners on our first weekly newsletter, we have decided to continue it going forwards! You could also put it this way, it's another way for us to reach out to our community and share our collective point of view of the weekly fast paced movements of our industry. Because at the end of the day, we love sharing our passion for bitcoin and crypto regardless of the wild swings in the markets.
And on March 15th early this week, early newcomers definitely felt a swing to the downside as BTC dropped nearly 14% from around $62k to $53k. Hard to exactly pinpoint as to what caused the sudden drop but the most conspicuous reason could be the proposed ban of crypto by the government of India. Two words to highlight there are "proposed" and "ban", which seems to historically never really pan out the way the media viscerally highlights to the community. Time and time again, these suggested "proposed bans" by various government entities eventually fade away into our deep lost memories as does the concomitant knee-jerk reactionary price drops. Sure, government entities can place a watchdog on those centralized exchanges, but as we all have learned time and time again, self-custody of your crypto is the way to go.
"Not your keys, not your crypto"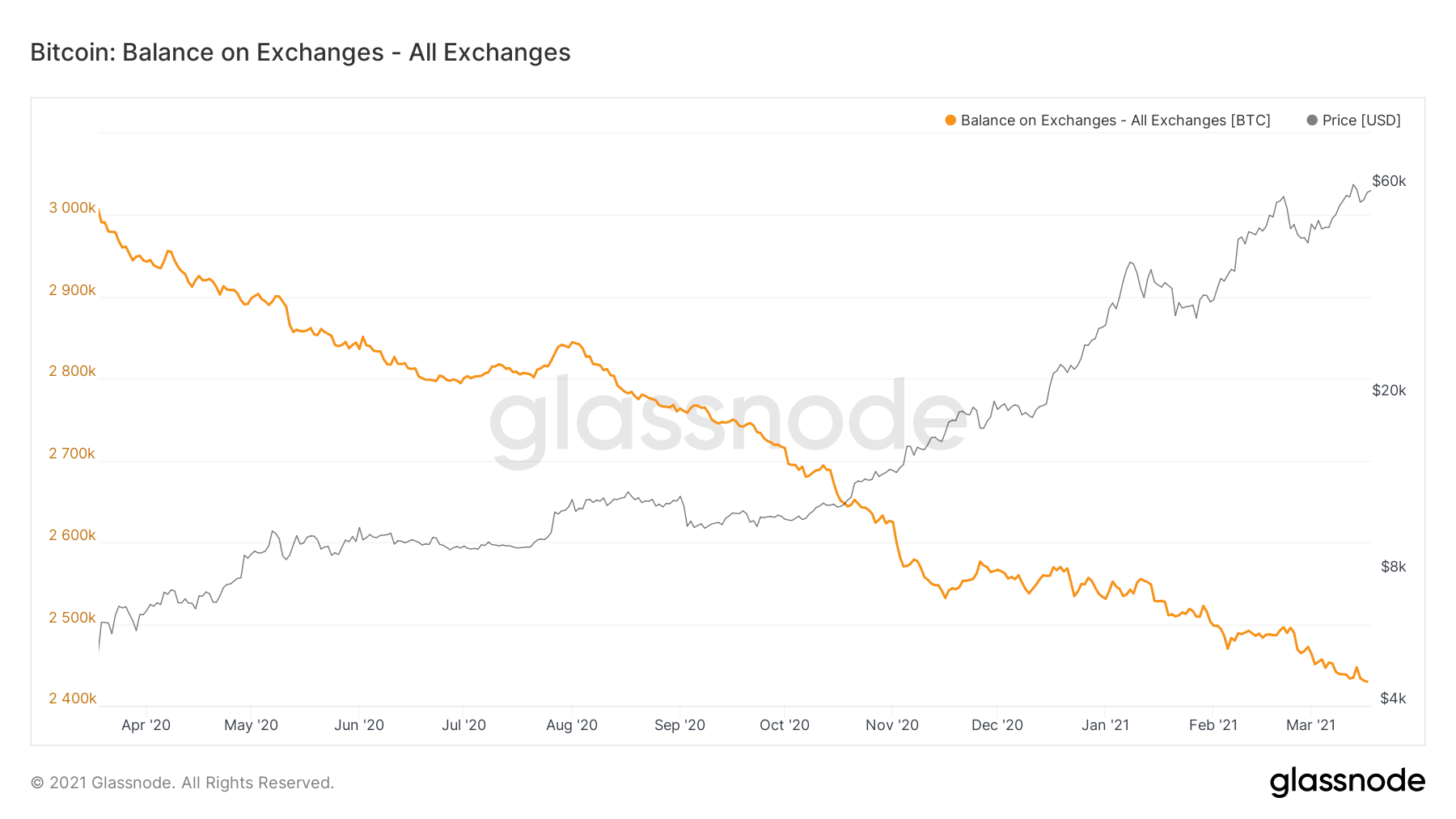 Even with a quick glimpse of crypto data showing the total amount of bitcoins held on the major exchanges, we evidently see that since last year, the amount of bitcoins held on major exchanges has dropped 20%. This trend of taking one's cryptos off of custodial wallets and onto decentralized wallets, such as Ballet wallets, is inevitable.
As Bobby Lee has emphasized in an interview with Decrypt a year ago, "I'm purposely building a company to NOT be your custodian."
And with time and development continuing to develop, it's becoming increasingly easier for beginners to take advantage of all the services within the bitcoin ecosystem, let alone learning to self-custody. Traditional banks will soon be more of our last resort option as even bitcoin ATMs are sprucing up by the minute. Just recently, Bitcoin Depot has planned to install more than 100 new bitcoins ATMs in the US, which will put their global ATM count at around 2,000.
To pronounce this trend, Bobby Lee, in a recent tweet: "Chinese banks track the serial numbers of all ¥100 RMB notes in cash withdrawals, both from ATMs and from bank tellers."
This begs the increasingly important question of: "Fiat or Bitcoin?"
Happy HODLing
A newsletter from Ballet